Billy's Lake and Soake Pond are the same body of water, which was formed when gravel extraction on the site ceased around 70 years ago and nature was subsequently allowed to move in.
Ownership of the lake is split between Portsmouth & District Angling Society on the north side of the causeway, which is known as Soake Pond, and Jewson Property Holdings on the south side of the causeway, which is known as Billy's Lake.
There are four formal fishing 'swims' and there are another two spots by the lake that are suitable for casting a line out.
Currently you do not need to book a fishing swim, and fishing is free of charge. However, you must have, and carry with you at the lake, a rod license issued by the Environment Agency (EA). Failure to do so can incur fines of up to £2,500, enforced by the EA. You can get a rod licence at any post office, or online at https://www.gov.uk/fishing-licences.
We are now embarking on the next stage of our planned access improvements, and as part of these improvements we aim to create an area of the lake that is more accessible to disabled anglers.
You can expect to catch carp, tench, roach, rudd, perch and pike at Billy's Lake.
Basic Fishing & General Rules at Billy's Lake
Please help to protect, conserve and enhance the area for the wider community by observing the following rules:
All those wishing to fish must carry a current Environment Agency Rod Licence, which can be purchased online or at a post office. The Environment Agency does make regular on-site checks without notice and will impose a large fine on those fishing without a licence.
All rubbish must be taken off site or placed in the bins provided.
No camping, No Fires, and No BBQs.
Dogs must be kept on a lead at all times around the lakeside.
Tinned baits are to be decanted into bait boxes, no tins on the bankside.
No one under 14 years of age is allowed to fish without being accompanied by a responsible adult over 18 years of age.
Protect our fish stock by returning all fish to the lake as soon as possible, with the minimum amount of time spent out of water.
Landing Mats must be used.
A main line with a minimum of 4lbs rating must be used.
Use Barbless Hooks only.
No Keep Nets.
Don't leave any discarded fishing line, hooks or terminal tackle lying around; it's a hazard to you, fellow anglers and wildlife.
Tackle left unattended at the lakeside will be removed.
Please look after the lake and surrounding area for the rest of the community.
Remember the Wildlife and Countryside Act 1981.
Useful Numbers
To report or discuss any issues at Billy's Lake please contact:
The Community Conservation Officer on 02392 258423 or billyslake@acorncentre.org.uk
The Acorn Community Centre, 3 The Kestrels, Wecock Farm
For Animals and Birds in Distress:
RSPCA Solent Branch Telephone 01329 667541
Environment Agency Telephone 03708-506506
Reporting misuse
If you see anyone misusing the area then call the Police on 101 or (in an Emergency) dial 999.
'Off The Hook' Fishing Club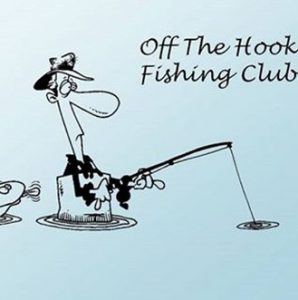 'Off the Hook' is a Community fishing club for all ages which meets regularly at the Acorn Community Centre to discuss ideas, and to arrange trips and workshops.
All ages and abilities are welcome to come along and join in the fun of fishing.
Billy's Lake is their home lake but there are monthly trips to other fisheries.
For more information, or to join the fishing club, please email Roger Pulley.
Don't forget to follow the club on Facebook!
Off the Hook Meeting & Match Dates - 2018/19

| Meeting Date | Match Date | Match Venue |
| --- | --- | --- |
| 10 May 18 AGM | Sun 20 May 18 | FLE, Romsey |
| 14 Jun 18 | Sat 23 Jun 18 | Mill Farm, Pulborough |
| 12 Jul 18 | Sun 22 Jul 18 | Pump Station, Liss |
| 2 Aug 18 | Sat 11 Aug 18 | Barrons Pond, Liss |
| | Sat 1 Sep 18 | Junior Match (Billy's Lake) |
| 13 Sep 18 | Sun 23 Sep 18 | Coloured Ponds, Liss |
| 11 Oct 18 | Sat 20 Oct 18 | |
| 8 Nov 18 | Sun 18 Nov 18 | |
| 6 Dec 18 | No match this month | |
| 10 Jan 19 | Sat 19 Jan 19 | |
| 14 Feb 19 | Sun 24 Feb 19 | |
| 7 Mar 19 | Sat 16 Mar 19 | |
| 11 Apr 19 | Sun 21 Apr 19 | |
If you are interested in helping out, or you would like more information on Billy's Lake, please contact the conservation officer, Lillian Wakely tel. 02392-258423.